In Memory
Janis L. Hollenshead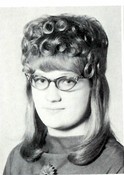 Janis

LaRaye Martin

Hollenshead
Janis LaRaye Martin Hollenshead , of Flint, went to be with her Lord and Savior Jesus Christ on Aug. 23, 2015. She passed away peacefully, surrounded by her family at Mother Frances Hospital in Tyler after a lengthy battle with lymphoma.

Janis was born in Urania, Louisiana, to the late Julius and Leona Martin on June 16, 1951. She lived in Olla, Louisiana, where she attended grade school and later graduated from LaSalle High School. She met her husband, Oliver Hollenshead, of Urania, Louisiana, at the Olla Recreation Center in the summer of 1967, afterwhich they shared a Cherry Coke with two straws at the local Dairy Queen. In March, 1968, they married at Standard Baptist Church in Olla, Louisiana.

The young married couple then moved to Tyler where Oliver worked in the petroleum industry before entering the United States Army and being stationed in Asmara, Ethiopia, from 1970 to 1972. During this time, they had their son, Jeromy , in May, 1970. After the death of Janis' father, Janis and Oliver returned to Tyler in 1972, where their daughter, Jennifer, was born in April. In the following years, Oliver's work would take them to Kingwood, Sweeney, Chicago, and eventually back to the Tyler area in 1979, specifically Flint, where they have remained since.

In addition to taking care of the home and children, Janis' work outside the home in the 1980s included working both at Hancock Fabrics and There's A Doll Shoppe in Tyler, and serving as the business and clinical coordinator for Opthalmology Associates of East Texas in Jacksonville. In 1990, Janis enrolled at Tyler Junior College and completed her Associates (Summa Cum Laude) in Applied Science (Computer Aided Drafting) in 1992. She then worked as a Survey and Civil Engineering Technician at a number of firms in Tyler including Adams Engineering, ELS Surveying and Mapping, and Apex Geosciences. In 2002, she decided to continue her education at the University of Texas at Tyler part time, where she graduated with a Bachelor of Applied Arts and Sciences Degree in Fall 2008. She was a member of both Alpha Chi, the National College Honor Scholarship Society, and the Phi Kappa Phi Honor Society.

Janis was a woman of many talents. Her hobbies included designing and sewing fashion garments, sewing home decorations, pattern drafting in AutoCAD, machine embroidery, collecting Japanese art and decor, computer design graphics, women's Bible study, water aerobics, cats, shopping, and of course, spoiling her grandkids. Janis was a people person who loved to listen and catch up with friends over the phone or in person over lunch or coffee.

Oliver and Janis joined Colonial Hills Baptist Church in Tyler after hearing Pastor Robert Carter preach on Galatians 2:20. They sensed in their heart a kindred spirit and knew this was where Abba Father wanted them to serve. Janis was active at Colonial Hills where she served in many roles, including class director of the Pastor's Sunday School Class.

Janis' family wishes to express their heartfelt appreciation to Dr. Gary Gross and his staff at the Blood and Cancer Center of East Texas, all those at UT Southwestern of Dallas, Mother Frances Hospital, the ETMC Cancer Institute Team, and the many friends, family, and fellow cancer sojourners for their love, guidance, and support throughout her cancer struggle.

Janis is survived by her husband of 47 years, Oliver Hollenshead; son, Jeromy Hollenshead and his wife Ellen, of Albuquerque, New Mexico; daughter, Jennifer Wehr and her husband Ryan, of Kingwood; and grandchildren Bennett Wehr, Bryton Wehr and Briley Wehr , all of Kingwood, and Laura Roberts of McKinney.

The Memorial Service for Janis will be held on Friday, Aug. 28, 2015, at 1 p.m. at Colonial Hills Baptist Church in Tyler. Instead of visitation, a reception for friends and family will follow at the church in the parlor. A private inurnment will take place at a later date in Rose Lawn Cemetery in Tyler.

In lieu of flowers, donations may be made in Janis' memory to any of the following charities: Coordinated Christian Ministries (ccministries.net), founded by a young missionary couple Janis met in Ethiopia in 1970; One Mission Society (onemissionsociety.org) in support of Mr. and Mrs. Robert Biddulph ; or the Bethesda Health Clinic (www.bethesdaclinic.org), a local health care solution for the working uninsured.