In Memory
Andy Looney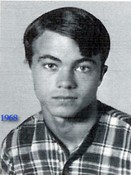 I want all our classmates that have gone on before us to have a rose by their name in the profile list so I am adding this to all of them. dc
Sallie Bell Reeves, Class of 68 emailed me this information about Andy.
He died Feb. 1, 1983.
He was married to Peggy Ann Gilliland May 14, 1971. They had 2 sons: Brad Jason Looney and Keith Edward Looney. Andy is buried in Memorial Park Cemetery on Hwy 64 West in Tyler.